View sets can be used to create multiple versions of the same scene under different parameters, or to view each phase of a construction project by showing each phase sequentially from start to finish. View sets show the state of a scene in Twinmotion. Each one reflects the visibility status of the elements in the Scene graph to illustrate a particular state or a variation in a scene, or a phase in the construction process.
For example, the video below shows how you can use View sets to view different versions of the same scene.
View sets can be applied to images or panoramas, or to the keyframes and parts of videos. You can create multiple images and panoramas that show each View set, or create time-lapse videos that show each View set one after the other.
In Twinmotion, View sets are created with the Scene graph and the View sets tool. You use the Scene graph to modify the visibility status of elements in the scene, depending on what you want to view in a particular View set. Once you've set up the scene as you want it to look, you use the View sets tool to save the status of the scene as it is reflected in the Scene graph.
The View Sets Tool
The View sets tool is located in the View sets panel. To open the View sets panel, click View sets in the Footer.

Each View set that you create is added and saved in the View sets tool. You can create as many View sets as you need, and rename and organize them in the View sets tool. View sets are not static; once a View set has been created, you can modify it and update it as needed.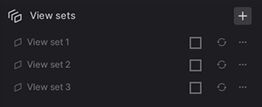 The Scene graph
The Scene graph contains all the elements that comprise a scene such as objects, lights, and vegetation. Each of these elements is listed in the Scene graph on its own separate layer, and can be organized into groups that are expandable and collapsible.
When creating View sets, you use the Scene graph to show or hide the elements in a scene. Once you've set up the visibility status of the elements with the Scene graph, you save an instance or snapshot of the scene by creating a View set.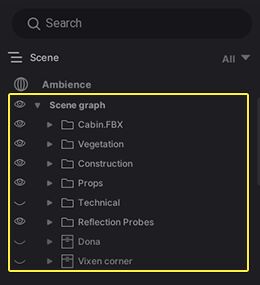 Viewing View Sets
Images, panoramas, and videos that contain View sets can be exported locally or added to and viewed in Local or Cloud Presentations.
To view View sets in a presentation, you must disable Phasing in the settings of the presentation if either of the following is true:
The presentation contains media that uses View sets and also media that uses phasing.

The View sets were created in a Twinmotion file that contains phasing.
To disable phasing in a presentation:
Open the View menu by clicking the Eye icon in the upper-left side of the presentation.

Click the Phasing icon, and select Phasing off.