The videos that you create in Twinmotion can be exported locally to your computer. You can export entire videos or certain video parts only. Before exporting them, you can adjust various export settings.
Global and Individual Export Settings
Some of the settings you choose for exporting videos are global and applied to all videos, but you can also choose individual export settings for each video.
Global Export Settings
To access global export settings, click Video in the Export panel.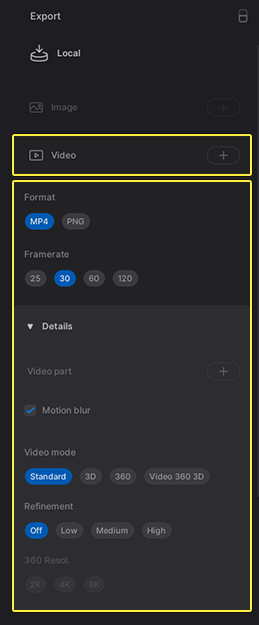 The following table describes the global export settings for videos.
Setting

Description

Format

Sets the format of exported videos. Videos can be saved in the MP4 format, or as a PNG sequence for video post-production or editing purposes.

When exporting a video in PNG format, the number of PNGs that are created is equal to the frame rate times the length of the video or part. For example, if you export a video that has a frame rate of 30 fps and a length of 10 seconds, the number of PNGs created will be 300.

Options: MP4, PNG

Framerate

Sets the frame rate value in frames per second (fps).

The frame rate defines the number of frames—or images—that are used per second to export and create a video or video part. Higher frame rates produce smoother results, and lower frame rates can result in a choppy video playback. Setting a frame rate of 120 fps can be useful if you want to create slow motion effects in post-production.

By default, the frame rate is set to 30 fps.

Options: 25 fps, 30 fps, 60 fps, 120 fps

Video part

Select this option to open a window that contains the parts of all the videos that you have created. A part corresponds to the beginning and end of an animated sequence in a video, and a video can contain one or more parts. If you want to export certain parts only, select them in the window that opens.

Motion blur

Enables or disables Motion blur on exported videos. When enabled, motion blur is visible on animated objects, characters and vehicles.

By default, this setting is disabled.

Options: On, Off

Video mode

Sets the mode of exported videos or parts.

Videos in Standard and 3D mode can be exported using a 2K Full HD, 4K UHD, or Custom resolution.

Videos in 360 and Video 360 3D mode can be exported using a 2K, 4K, or 8K resolution.

By default, the mode of exported videos is Standard.

Options: Standard, 3D, 360, Video 360 3D

Refinement

Enables or disables Refinement on exported videos, and sets the refinement quality.

When Refinement is disabled, the only area of the scene that is used to create reflections is the area that is visible in the Viewport. When Refinement is enabled, the range of the area that affects reflections is increased beyond the Viewport, which can result in more realistic looking reflections. The higher the quality of the refinement setting, the larger the area of the scene that will be used.

By default, this setting is disabled.

Options: Off, Low, Medium, High

360 Resol.

Sets the resolution of videos exported in 360 and 360 3D mode. A higher value increases the size of videos and increases the time that it takes to export them.

By default, the resolution is set to 4K.

Options: 2K (2048 x 1024), 4K (4096 x 2048), 8K (8102 x 4096)

Max lighting

Enables or disables Max lighting on videos.

You should enable this setting when exporting several videos— at the same time—that include both day scenes and night scenes; this ensures that night scenes are not under-exposed.

By default, this setting is disabled.

Options: On, Off
Individual Export Settings
To access the individual export settings, click the video in the Media dock. A tab named Video that contains the settings is added to the Ambience panel.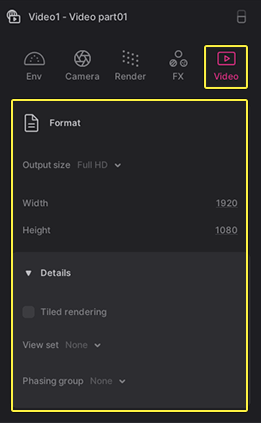 The following table describes the individual export settings for videos.
Setting

Description

Output size

Sets the output size (resolution) and aspect ratio of videos exported in Standard and 3D mode.

By default, the output size is set to 2K.

Options: 2K Full HD 1920 x 1080, 4K UHD 3840 x 2160, Custom

Tiled rendering

When Tiled rendering is enabled, you can export and render videos at very high resolutions without being restricted by the memory limits of your computer's Graphics Processing Unit (GPU). When this option is enabled, videos can be exported at a maximum custom resolution of 64K (up to 61440 x 61440 pixels).

If the custom output size of a video is set to a resolution higher than 8K (7680 × 4320), we recommend enabling this option to avoid GPU memory limits.

Export times can increase when enabling this option.

Limitations: Enabling Tiled rendering can affect the quality of the following visual settings in rendered videos: Screen Space Reflections (SSR), Screen Space Ambient Occlusion (SSAO), Global Illumination (GI), Lens flare, Depth of Field (DoF), and Bloom.

Options: On, Off

View set

Applies a View set to the video.

Phasing group

Use this setting to apply a phasing group to a video.

For more information about phasing groups, refer to Phasing and View sets.