When you open Twinmotion, by default the Home panel automatically appears. From the Home panel, you can create new scenes and open existing scenes. You can also download, update and open templates that have carefully-designed lighting and settings to showcase your architectural and product visualization projects.
About the Home Panel
The Home panel is your starting point for working in Twinmotion. You can open ready-made Architecture and Product visualization templates with predefined assets and lighting, get started with new projects, and access existing projects.
By default, the Home panel appears when you launch Twinmotion. If you prefer to hide it when you open Twinmotion, deselect the Show on startup checkbox at the bottom left of the panel. The next time you open Twinmotion, the Home panel will be hidden. You can always access the Home panel within Twinmotion by clicking the Home panel icon or going to File > Show Home panel. To close the Home panel, click the Close ( X ) icon at the top right corner of the panel.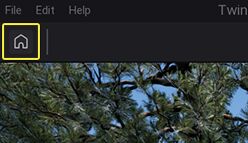 Show or hide the Home panel

Close the Home panel
Open a Template
The Home panel includes free Architecture and Product visualization templates you can use to get a jump start on your projects. Each template features ready-made starting scenes with lighting and settings that you can use as a basis to create high-quality images, videos, panoramas, Panorama Sets, and Presentations.
Open a template, import your project, and experiment with the available images, videos, and options in the Scene graph to quickly create professional quality visuals.
To view a description for a template, hover over the title of the template in the Home panel.
For more information about the templates and how to use them, refer to Templates in Twinmotion.
Create a New Scene
To start a new project using the Twinmotion default scene, click New scene. This scene is ideal for starting new projects from scratch and customizing all aspects of your scene. This basic scene contains a Starting ground, Starting landscape, and Starting base, and the lighting is provided by the Twinmotion Dynamic sky.
You can also create a new scene in Twinmotion by going to File > New scene.
Open an Existing Scene
If you already have existing Twinmotion projects, click Open scene to browse your projects and select the one you want to open.
You can also access your projects in Twinmotion by going to File > Open recent.