The Library contains a large collection of Twinmotion assets to create indoor and outdoor scenes in the following categories: Materials, Vegetation, Objects, Lights, HDRI environments, Characters, and Vehicles.
Smart Assets
Twinmotion assets are categorized as fixed assets or Smart assets. Smart assets have custom parameters that can be modified. For example, you can change the age and growth pattern of Trees, modify the tint of their leaves and bark, and have the seasons and wind have an effect on them.
Animated Humans and Animated Groups in the Character category are also Smart assets, as they can be modified with Cloth color, Pose and Animation presets.
Other Smart assets in the Library include Decals, Flags, Water objects, Sounds, Doors, Bushes, Grass, HDRI environments, Cars, Aircraft and Construction machines.
Using Twinmotion Assets
Many Twinmotion assets are available locally with your Twinmotion installation and can be accessed instantly from the Library. To reduce local storage requirements on your computer, other Twinmotion assets are stored on a dedicated server online. To use them, you must first log into your Epic Account and download them.
Assets that need to be downloaded have a Download icon next to their image in the Library, as shown below. Once the assets have been downloaded, the Download icon no longer appears.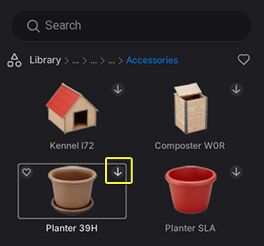 Accessing Twinmotion Assets on the Cloud
In Twinmotion, log into your Epic Account by clicking the My account icon in the Header, or selecting Sign in to Epic Games from the File menu.

In the Library, hover your cursor over the thumbnail of the asset and click the Download icon.

Once the asset has been downloaded, drag it into the scene.
By default, downloaded Twinmotion assets are saved to your computer in the following folder:
C:\Users\username\Documents\Twinmotion[version number]\TwinmotionCloudLibrary
You can change this location in the Preferences panel (Ctrl + P) under Settings > Custom paths.
Twinmotion Assets in the Library
The following sections provide a brief overview of the assets in the Twinmotion Library.
Materials
Materials are applied to objects and geometry to simulate the appearance and texture of realistic surfaces, such as glass, metal, and brick. The Twinmotion Library contains a large variety of Materials that react to lights and the environment.
The Materials assets are classified in the following categories: Glass, Metal, Concrete, Wood, Stones, Brick, Ground, Plastic, Wall coverings, Roof coverings, Ceilings, Grids, Marble and granite, Tiles, Fabric, Leather, and Car paint. The Materials category also contains assets that simulate Water, Subsurface scattering, and Neon effects, and assets that can be used for Modeling. Videos can also be added and applied on objects to create animated textures.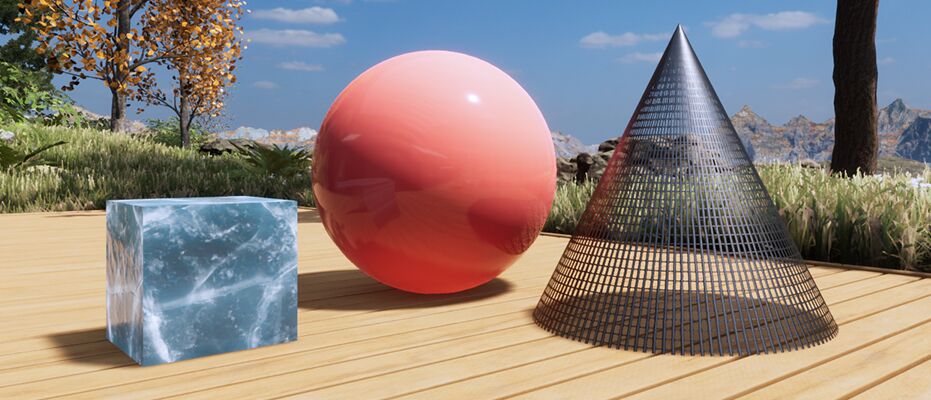 Vegetation
Vegetation assets include a variety of natural vegetation and scenery such as Trees, Bushes, Grass and flowers, Detail grasses, Rocks and more. In Twinmotion, Trees, Bushes, and Grass are Smart assets, which means that they are affected by wind and the change of seasons; you can also change several of their properties such as growth patterns, age, and color.
To easily add vegetation to large areas in a scene, use the Vegetation paint and Vegetation scatter tools or the Multidrop feature.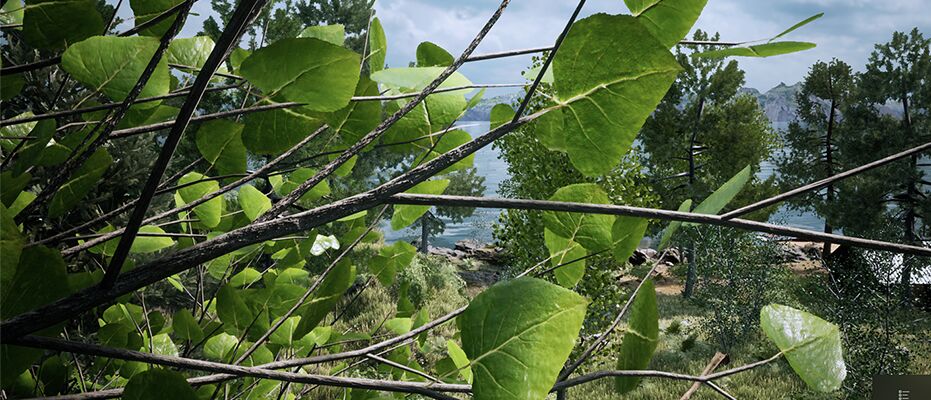 Landscapes in the Vegetation catetory provides Flat and Rocky grasslands landscape assets that you can use with the Sculpt terrain and Paint terrain tools to create realistic terrains.

Objects
The Objects category contains the following sub-categories:
Home: Assets for interior home and office scenes such as furniture, plants, and decorations in the following categories: Living room, Kitchen, Bathroom, Bedroom, Office, Gym, Street Workout, Musical instruments, Backyard, Healthcare, and Plinths.
City: Exterior furniture and assets such as benches, streetlights, planters, and construction materials to create realistic exterior scenes in the following categories: Benches, Bollards, Fountains, Planters, Trash cans, Signs, Streetlights, Advertising, Flags, Construction, Urban park, Urban structure, Fire hydrant, and Mailbox.

Primitives: Various shapes, such as cones, cylinders, and boxes, that can be used as building blocks to create custom geometry for prototyping purposes.
Decals: An assortment of decals that can be applied to objects and point cloud objects to create realistic effects, such as street markings, manholes, sewer grates, graffiti, puddles, stains, cement and asphalt patches, road damage, stains, signs, dead leaves, and shadows.
Particles: Assets that simulate natural phenomena such as smoke, fire, waterfalls, shower water, water jets, and fog.
Water: Water shapes that can be resized and used to create items such as swimming pools, water fountains, or aquariums.
Sounds: People, Nature, and City audio clips that you can add to a scene to create realistic sound environments.
Doors: Various models of animated Rotating doors and Sliding doors.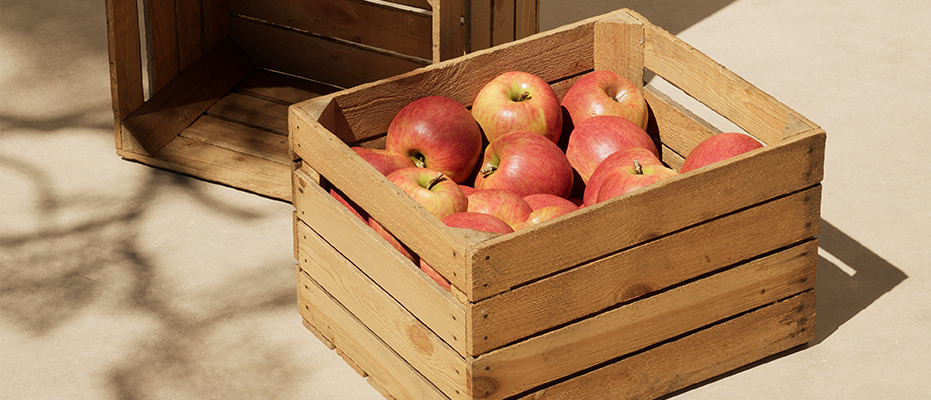 Lights
The Lights category contains several types of lights to create custom lighting effects in your scenes: Omnidirectional light, Spot light, Neon light, Area light, and several IES light profiles. Several of the lighting parameters can be modified such as Intensity, Color, Attenuation, Shadows and Haze.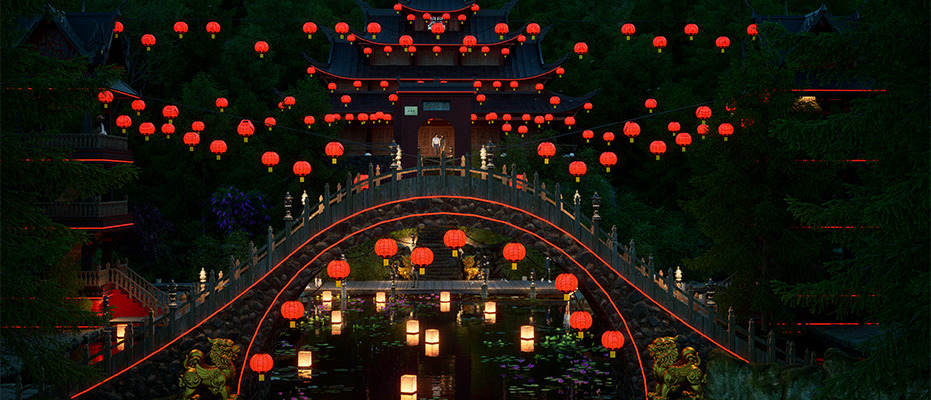 HDRI Environments
The HDRI environments category contains High Dynamic Range Images (HDRIs) that can be used in Skydomes and Backdrops that provide realistic lighting scenarios, reflections, and backgrounds for your Twinmotion scenes.
These HDRI assets are organized in the Library as follows:
Skies
To generate lighting and reflections that simulate realistic Low sun, Morning and afternoon, and Noon conditions, use the HDRIs in this category. Each category has its respective Clear, Cloudy, and Overcast sections.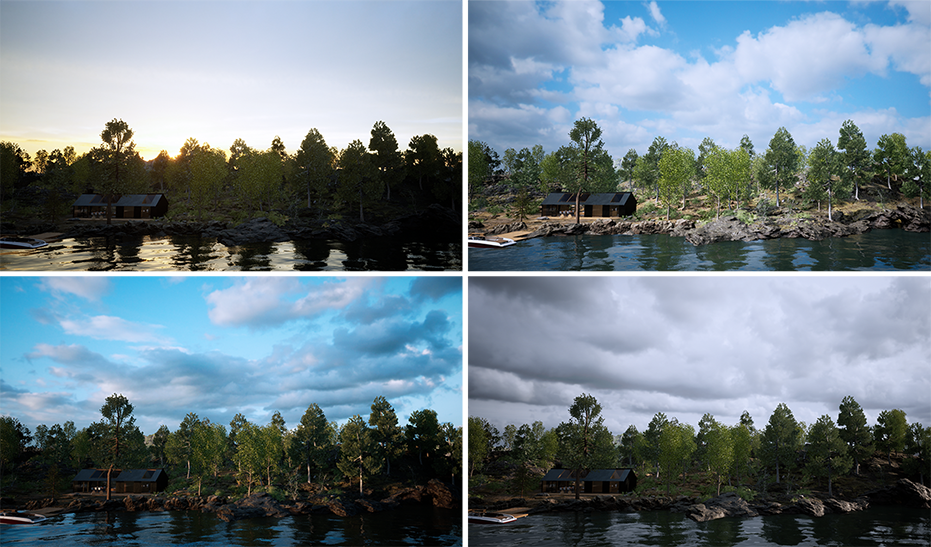 Indoor
The HDRIs in this category provide realistic indoor lighting, reflections, and backgrounds for your scenes.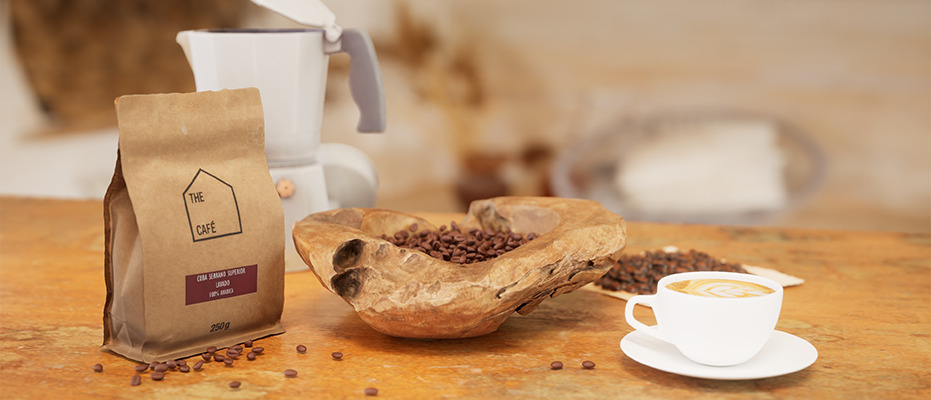 Outdoor
To simulate realistic outdoor lighting and reflections, and to place your scenes in outdoor backgrounds, use the HDRIs in this category.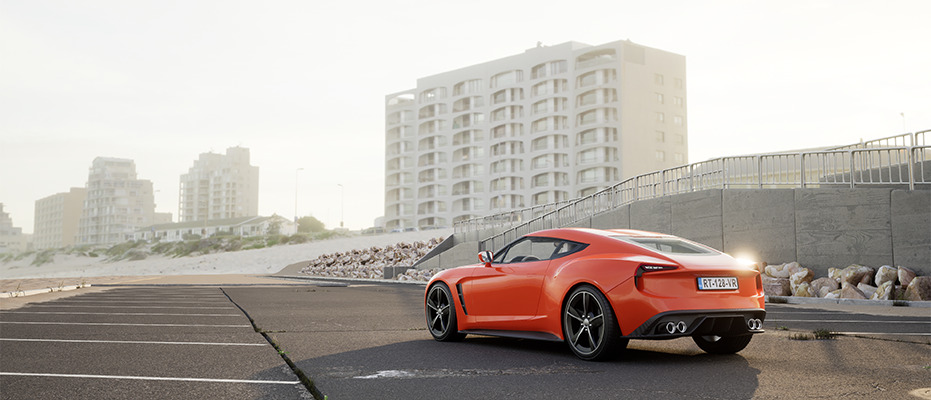 Studio
The HDRIs in this category provide realistic studio lighting and reflections suitable for product shots.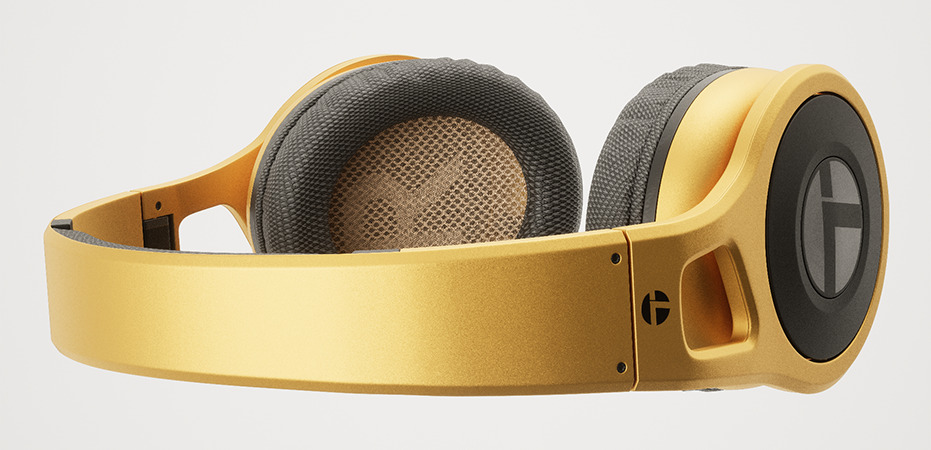 Characters
Populate your Twinmotion scenes using animated and static photorealistic human and animal characters in the following categories:
Animated humans: Animated human characters that can be rotated and move in the scene according to Pose presets that you select, such as Speaking, Idle, Sitting and walking. Several Cloth color presets are also provided.
Groups: Characters from the Animated humans category that are grouped together. Characters can be added or deleted from the group.
Posed humans: 3D scanned human characters and groups of characters in various static poses.
Cutout: Static 2D human characters and groups of characters. The image of the character can be replaced by applying a color or texture to the cutout.
Animals: Animated mammals, birds, and fish that animate in the scene, and can be translated, rotated, and scaled.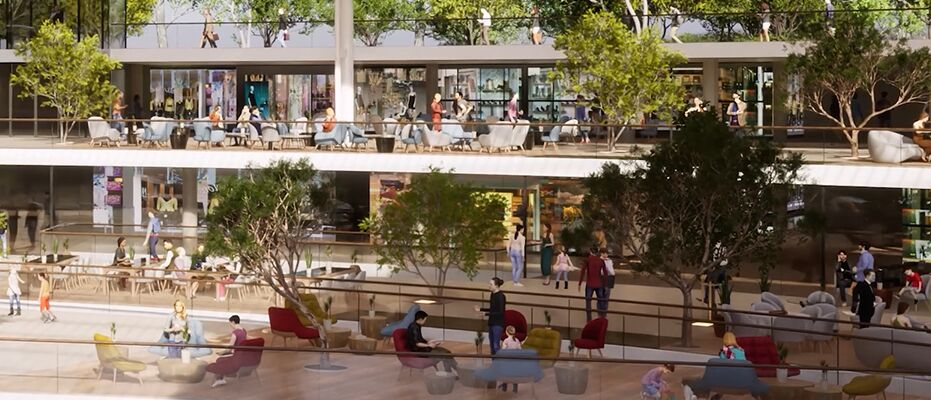 Vehicles
The Vehicles category contains several collections of Cars, Buses, Boats, Aircraft (including hot air balloons), Two-wheeled vehicles—such as bicycles, motorbikes and scooters—, Construction machines, and Trucks.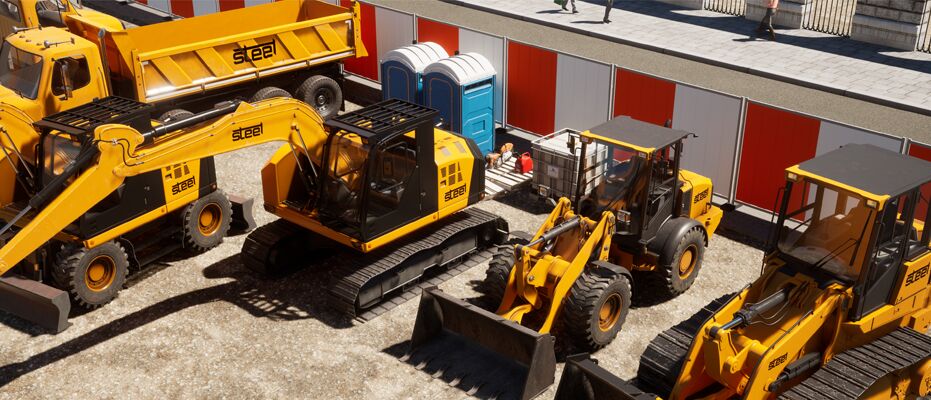 Credits
Coffee Cup by AHMED KCHIKICH is licensed under Creative Commons Attribution.
Italian Coffee Machine by Kirill1991 is licensed under Creative Commons Attribution.
Coffee Beans- Autodesk Memento by John Fino (tauricity) is licensed under Creative Commons Attribution.
Coffee Paper Bag 3D Scan by grafi is licensed under Creative Commons Attribution.